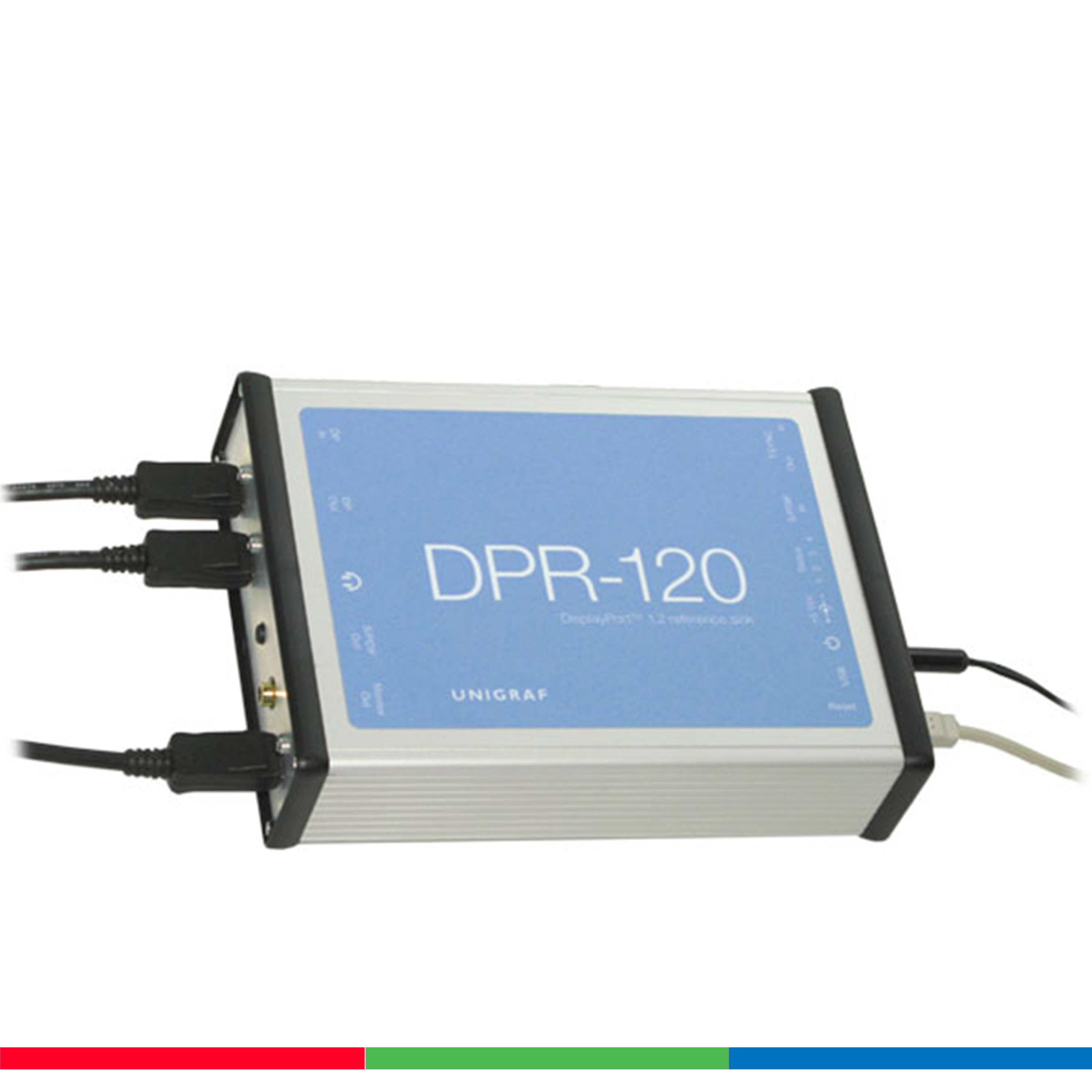 Description
DPR-120 is a fully-featured DisplayPort™ 1.2 compliant Reference Sink. Verify DisplayPort interfaces up to 4K@60Hz. It provides all features needed for testing DP Multistream (MST) source devices like PC display cards or portable computers. The Debug and Test Controller GUI is the user interface of DPR-120. It provides the user with a multitude of valuable tools for monitoring the performance of the DUT.
VESA has certified DPR-120 as the Authorized Test tool for testing Link layer CTS 1.2 Core and Extension Set 1 revision 1.1. Unigraf's DPR-120 DisplayPort Reference Sink is an Authorized Test Tool for DP 1.2 Link Core and Link Ext1 CTS tests for testing DisplayPort source devices. DPR-120 Debug and Test Controller SW (DTC) is the graphical user interface (GUI) for controlling the DP 1.2 Link CTS tests with DPR-120 Reference Sink. DPR-120 DTC also has many powerful debug features for monitoring the status of the tested unit (DUT) and the test procedure.
Compliance Test Sets
DPR-120 DTC executes the DP Link compliance tests as defined in
VESA® DisplayPort® Link Layer Compliance Test Specification. The tests are divided into sets based on their scope.
The image below explains the relation and use of the three SW sets and what is needed for each certification test.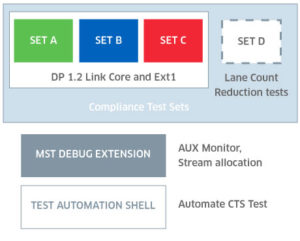 Test Set A
DP 1.2 Link Ext1 tests for basic link training functions, HBR2 extension.
  (Tests 400.3.1.1 to 400.3.1.9)
Additional DPCD handling tests.
  (Tests 700.1.1.1, 700.1.1.2)
Test Set B
DP 1.2 Link Ext1 tests for link configuration changes, HBR2 extension.
  (Tests 400.3.1.12 to 400.3.1.15;
   400.3.2.1 to 400.3.2.3)
Video stamp generation
(Test 400.3.3.1)
Test Set C
Partial set of tests from DP 1.2 CTS Core not covered by Ext1.
  (Tests 4.2.1.1, 4.2.1.2; 4.2.2.1 to 4.2.2.9;
   4.3.2.4 to 4.3.2.6; 4.4.1.1 to 4.4.1.3;
   4.4.2, 4.4.3)
Test Set D
Lane Count Reduction Tests
(Tests from "Reduced lane count link training Test Proposal")
Debug and Test Controller GUI
The desktop user interface for DPR-120 is called Debug and Test Controller (DTC) GUI. It provides the user access to all link status information and ways to control the features of the DPR-120 sink for testing DUT capabilities. It also features an AUX Channel Monitor for evaluating the handshake in the upstream link. DTC GUI is also the user interface for Link compliant tests.
DTC GUI allows the user to evaluate the details of both the upstream DP Link training status and the streams sent by the Source. The user can monitor and log the changes in Main Stream Attributes (MSA), Video Status and CRC of color components. Both the EDID and the DPCD data of the DPR-120 Sink can be altered.
All these are valuable features for testing the DUT source with various sink capability scenarios. Debug and Test Controller GUI is also the user interface for DP 1.2 Link Layer CTS Extensions tests.
This presentation describes the principles of verifying a PC as a multi-stream DisplayPort source:
DPR-120 with Debug and Test Controller GUI is an optimal tool also for verifying the performance of USB-C Source devices. They can be connected to DPR-120 via a USB-C to DP cable adapter. For learning more, please contact Unigraf.
Compact sized DisplayPortTM 1.2 compliant Reference Sink

HBR2 and MST capable Sink and Branch device

Certified as the platform for DP 1.2 LL CTS Ext1 tests

Optional MST Debug panel and AUX Channel Monitor

Debug and Test Controller GUI enables monitoring and previewing any MST stream

User programmable EDID and DPCD
Pickups from our learning base