Description
UCD-451 is a video generator for testing DisplayPort™ 1.4a sink devices with HBR3 max bit rate capability.
Resolutions supported: 8K@30 Hz and 4K@120 and Hz 8K@60 Hz (with DSC)
DP 1.4a Link Layer CTS Tool for Sinks
HDCP 2.2/2.3 CTS Tool for Transmitters
Support for DSC, FEC, LTTPR and MST (4 streams)
USB-C output with supplied converter
HDR Testing
Extended 32 GB memory enables verifying 8K Dolby Vision content
Any video format, audio format, frame rate, video timing, and infoframes including timestamps.
There are no restrictions on the output of video format
8K Dolby Vision™ and Dolby Audio Test Tool
Unigraf's UCD-451 is a 8K Dolby Vision and Dolby Audio test tool. Thanks to an extended 32GB memory UCD-451 enables the verification of 8K Dolby Vision™ content. With the Dolby SW package, UCD-451 is a mandatory tool for any monitor manufacturer that is willing to have a Dolby Vision certificate on their products.
DisplayPort Compliance Test Tool
VESA requires Link Layer and HDCP compliance testing as part of the DisplayPort testing requirement for certification. UCD-451 is a compliance test tool for testing DP 1.4a Link Layer including DSC on DP sinks. It is alo a HDCP 2.2/2.3 compliance test tool for DP receivers.
More information: DisplayPort Compliance Testing
UCD Console SW and Embedded PC
To enable the impressive 32GB memory, UCD-451 comes with a built-in PC. The UCD Console Software, with an easy-to-use GUI, can be used simply by plugging in a monitor, keyboard and mouse of your choice. The PC-like construction enables 6 USB 3.0 connections and an HDMI connection for users.
UCD Console Software with easy-to-use GUI enables users to monitor and control all vital functionalities of DP 1.4 interface. With built-in pattern generator and video capture function you can test sink devices up to 8K@30Hz with uncompressed video. The GUI provides users with control and visual presentation of DP link status and configuration up to 4 lanes. Dolby Vision scenarios can be played back in UCD Playback integrated into UCD Console. UCD Playback can combine info frames,
video frames and audio packets. They are all seperate files providing full flexibility to customize the scenario. Additional functionalities include video and audio pattern generator, data logger for AUX and metadata content, link and DPCD register monitoring and control dialogs, EDID editor, HDCP status and control functions etc.
E-learning center: UDC Console GUI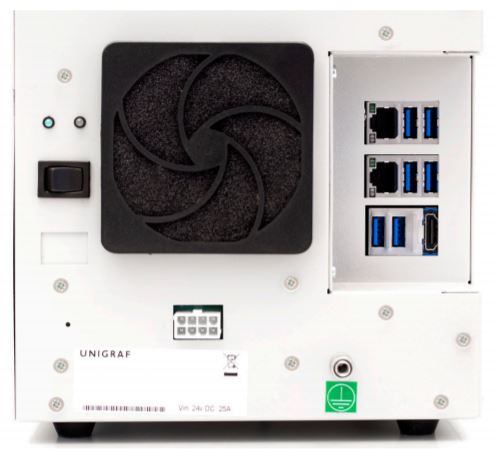 Display Stream Compression (DSC)
DSC feature is available as a software add-on to UCD-451. DSC feature includes both tools for encoding and decoding DSC content, which enables DSC CTS and related tests in DP Link Compliance Test tool.
DSC Decoder allows the user to preview DSC images on the UCD Console. DSC Encoder allows users to convert image bitmaps into DSC encoded custom patterns to be transmitted with the built-in pattern generator on the UCD Console.
E-learning center: Display Stream Compression
Watch this tutorial on sourcing DSC content with Unigraf's UCD-400
DP 1.4a Test Equipment
8K Dolby VIsion Test Tool
Extended Memory 32 GBs
Embedded PC
DP 1.4a Link Layer CTS Tool for Sinks
HDCP 2.2/2.3 CTS Tool for Receivers
HDCP 1.3 & HDCP 2.2/2.3 support
8K and 4K Reference DP Source
DP 1.4a features:
HBR3 output

MST support (4 streams)
DSC, FEC and LTTPR support
USB-C output with supplied converter
Pickups from our learning base