Back to products
UFG-12 MC • HDMI, SDI and Analog Capture with Hardware Compression
Description
UFG-12 Series is a modern PCIe bus based frame grabber family that captures both video and audio. UFG-12 family is compatible with standard DirectShow and V4L2 applications and the included SDK enables easy integration with the customer's own program in Windows or Linux environment. The efficient PCIe bus enables the high data throughput needed to capture crystal clear high-resolution video. Application areas for the UFG-12 Series can be found in medical, industrial, multimedia or in maritime environments.
Request an Online Demo for UFG-12
UFG-12 MC frame grabber features on-board hardware compression for lowering the host CPU loading. It provides both input video and audio in an H.264 compressed stream for the capture application. The versatility makes UFG-12 MC an optimal choice for e.g. a Medical, Industrial or Presentation Media storage PC.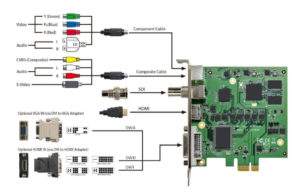 On-board H.264 compression
7 Video and 4 audio inputs conveniently in one board
1920×1080 Full HD at 60/50 fps
HDMI and SDI embedded audio and L/R external audio
DirectShow for Windows and V4L2 for Linux
System Development Kit (SDK) for easy integration
Pickups from our learning base