Video, Audio, and Power via USB-C
Most smartphones take advantage of the versatile USB-C interface. USB-C connector enables transferring video, audio and power in addition to USB 3.1 data via one cable. Video and audio are transferred via DisplayPort Alternate Mode meaning DisplayPort interface is used to transfer video and audio within the USB-C interface. Implementation of the USB-C connector into smartphones has created new testing challenges for smartphone manufacturers.
What to Test in Smartphones?
On smartphones, it is crucial to test the link stability and quality of the transmitted video stream. This is done by capturing a reference frame that is compared to the transmitted video stream. These types of tests known as cyclic redundancy check (CRC) are time and cost-efficient ways of detecting link errors in the digital video stream. With modern smartphone displays, featuring resolutions up to 500 dpi, it is impossible to detect errors in the video stream with a bare human eye. Only testing with proper test tools can guarantee a stable and error-free video stream.
Corresponding tests can be run on audio where a certain reference frequency is tested.
Tutorial: DisplayPort CRC Video Stability Test with Unigraf's UCD-340 and UCD Console
DisplayPort Alternate Mode Features
In order for the smartphone to display a video stream on the screen, the device needs to be entered into DisplayPort Alternate Mode (DP Alt Mode). With a proper test tool you can enter the DP Alt Mode in a controlled manner. This allows analyzing of the device behavior when entering the DP Alt Mode. It is important to test all DisplayPort alternate mode functionalities. USB-C DP Alt Mode can have different configurations for using the available lanes (up to four lanes at HBR3 speed). For example, two lanes can be used to transfer video and two lanes to transfer USB 3.1 data simultaneously. As USB-C can transfer data alongside video it needs to be tested that the data from DP Alt Mode is non-defected.
Tutorial: Testing USB-C Devices with UCD-424: Verifying DP Alt Mode Using UCD Console
As USB-C smartphones can act as a power source (charger) and power sink (device being charged), there is a need to test that the device works correctly on all USB-C Power Delivery roles. Only with the proper test tool, you can test the different USB-C Power Delivery functions. Different e.g. chargers and devices have different capabilities to receive and deliver power. Up to 100W of power can be delivered with different voltage and current configurations. With proper test tools, you can load the smartphone with different power delivery configurations.
The screenshot shows the control panel for different DP Alt Mode and USB-C Power Delivery roles and functionalities.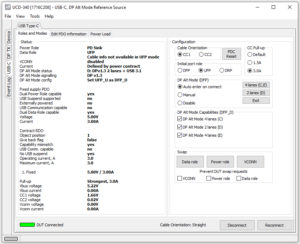 One of the most common manufacturing defects on USB-C smartphones are poorly soldered connector pins. The USB-C connector is capable of delivering and receiving up to 100W of power. For safety purposes, it is essential to test that the USB-C connector pins are properly soldered into the circuit board. A poorly manufactured USB-C connector can cause the cable or the device to overheat. This has known to cause the melting of the cable or serious overheating of the device causing terminal damage.
Unigraf USB-C test tools offer a unique solution for testing the connector pins. A built-in electrical test enables the testing of each connector pin. Thanks to a software-based cable flip, the electrical test enables testing of the USB-C connector with single cable insertion. In production, this saves valuable time as there is no need to insert the cable in both ways. The electrical test features ready-made tests for testing Vconn and Vbus voltage levels. All electrical tests can be automated for production line testing.
The screenshot below shows the electrical tests controlled via easy-to-use GUI.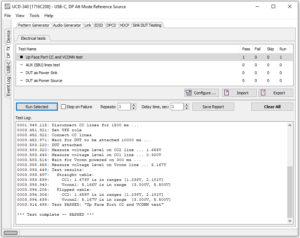 Just like any other DisplayPort device, smartphones with USB-C DisplayPort Alternate Mode capability need to be tested for DisplayPort compliance. As there are hundreds of manufacturers making DisplayPort devices, compliance testing according to VESA and DCP standards is the only way to ensure interoperability between different DisplayPort devices available on the market. Also, only by proper compliance testing you can obtain the DisplayPort certification.
Link Layer CTS Testing
The core of the DisplayPort compliance testing is the Link Layer Compliance Testing. The Link Layer compliance testing is always done according to the latest DisplayPort specification. In the link layer compliance testing the link between the transmitter and receiver devices is analyzed and tested according to the specifications. Also, all of the different timings (e.g. 4K@60Hz) that can be transmitted under the specifications are tested.
For DP 2.0 Link Layer CTS Testing: UCD-500
For DP 2.0 Link Layer CTS Testing: UCD-400
HDCP 2.3 CTS Testing
DisplayPort devices employ HDCP encryption to protect the digital content. In 2018 VESA announced that it requires HDCP testing as part of the DP testing requirement for certification. If a DP Source or Sink supports HDCP (as reported in the product CDF) it shall be tested as part of the certification requirements for obtaining the DP Logo. (Source: VESA). The latest HDCP specification is the HDCP 2.3 which is used in smartphones that support USB-C DP Alt Mode.
Test Tools for Testing Smartphones
Unigraf's USB-C test tools enable testing of all the above-mentioned features of the USB-C interface. Unigraf Test Tools support testing transmitter devices up to UHBR speed. Test sets delivered with the devices include all necessary tests needs for proper testing of USB-C smartphones. With an optional external power unit, you can test power delivery up to 20V / 5A. All tests can be easily automated for time-saving and error-free testing.
UCD-500 • UHBR Capable State of the Art Test Tool
UCD-500 is a DisplayPort™ 2.0 Video Generator and Analyzer unit for testing DisplayPort Sinks and Sources up to 8K@60Hz and 16K@60 Hz (with DSC) video modes with UHBR 20 Max Bit Rate Capability. 10 Gb rate max capability for DP 2.0 connectors, due to current DP 2.0 implementation, and 20 Gb rate max capability for USB-C connectors. UCD-500 offers support for Panel Replay, Adaptive Sync, DSC, FEC, and LTTPR.
More information: UCD-500
UCD-424 • HBR3 Capable Video Transmitter and Receiver
UCD-424 is an interface test unit for verifying DisplayPort™ Alternate mode over USB-C™ up to 8K@30 Hz and 4K@120 Hz video modes.  UCD-424 supports both DisplayPort 1.4a Link Layer and HDCP 2.3 CTS testing. UCD-424 features DP 1.4 / HBR3 input and output in one unit. Further, it features USB-C v1.3 input and output with Power Delivery 3.0.
More information: UCD-424
UCD-340 • 4K@60Hz Capable Video Transmitter and Receiver
Unigraf's UCD-340 is a fully-featured R&D Debug Test Tool designed for engineers developing new products in R&D laboratory environment. It supports transmitting and receiving video up to 4K@60Hz. UCD-340 is the only DCP Approved HDCP 2.3 CTS Test Tool for testing USB-C DP Alt Mode receivers and transmitters.
More information: UCD-340
UCD-240 • Cost-Effective Production Line Test Tool
UCD-240 is a cost-effective USB-C DP Alt Mode Test Tool designed specifically for production line testing. It's small size and high-level API ensure easy integration into existing test systems.
More information: UCD-240
The video below shows how you can run automated video tests on a smartphone.