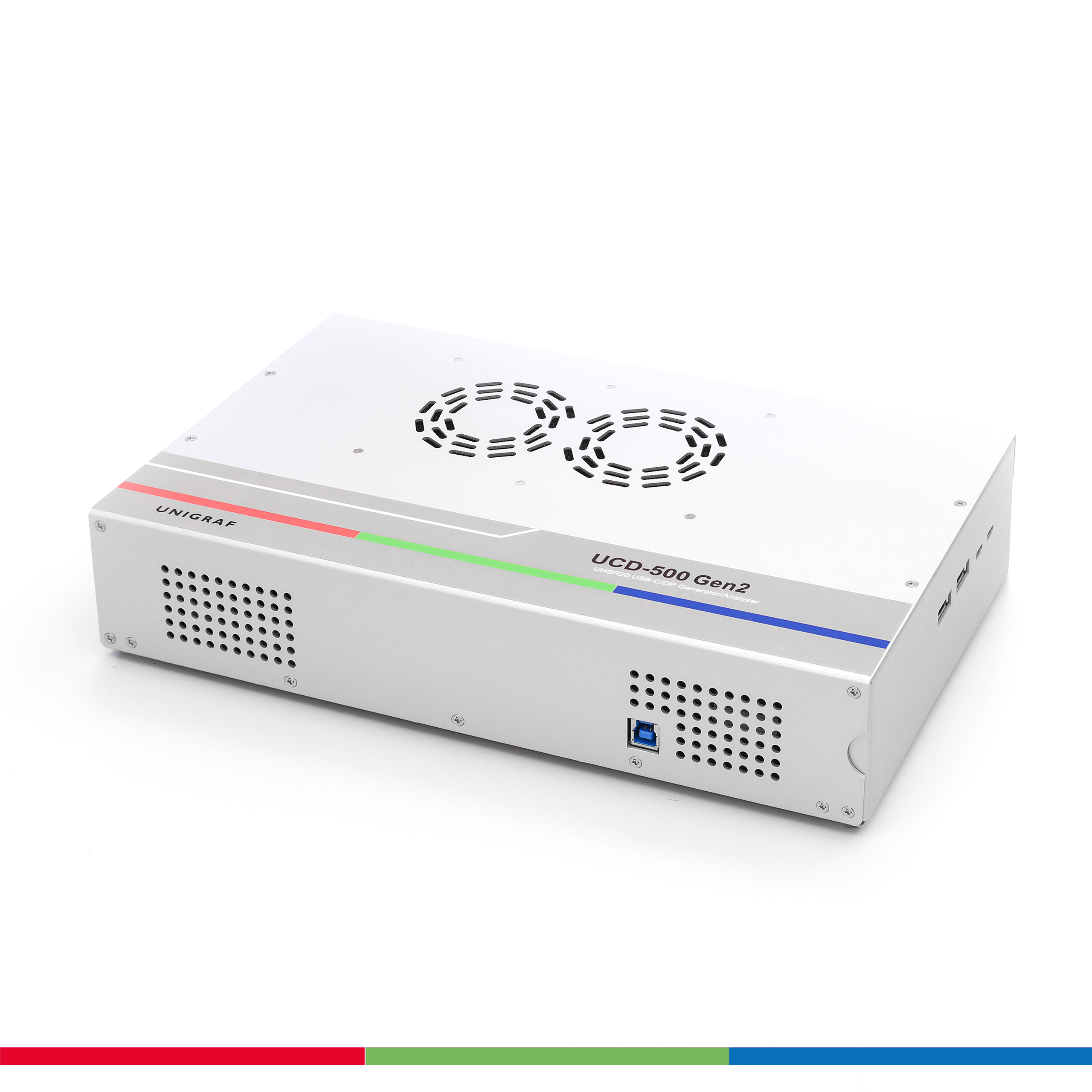 Description
UCD-500 Gen2 is a DP 2.1 Link Layer CTS Test Tool. It supports testing DP Sinks and Sources with UHBR 20 Max Bit Rate Capability with both USB-C and DP connectors.
UCD-500 Gen2 supports:
Link Layer CTS
10, 13.5 and 20 Gbp/s lane rates
Video modes up 8K@60Hz and 16K@60 Hz (with DSC)
HDCP 2.3 CTS for receivers transmitters and repeaters
Adaptive Sync
DSC
FEC
LTTPR
For UCD-500 users, DP80 (20 Gb rate max) capability on DP connectors is available via HW upgrade to UCD-500 Gen2. Please contact Unigraf for more details.
DP 2.1 Compliance Test Tool
UCD-500 Gen2 is a Compliance Test Tool for validating DP 2.1 Link Layer on DP Sinks and Sources. DisplayID/EDID and Adaptive Sync compliance tests are also supported. UCD-500 supports HDCP 2.2/2.3 CTS on DP Transmitters, Receivers and Repeaters.
For R&D and Test Automation
UCD-500 Gen2 supports both hands-on debugging and running extended automated test sequences. UCD Console GUI is a preview and test application for desktop use. Each interface function has a well-structured dialog for superior at-a-glance viewability.
Unigraf TSI is a test software API that provides the system integrator a fast and reliable way for ensuring the functionality of the tested equipment.
UCD-500 Highlight Features
16K Video Generator & Analyzer

8K@60Hz without compression

16K@60Hz with DSC

DP 2.1 Link Layer CTS

HDCP 2.3 CTS for receivers, transmitters and repeaters

Support for Adaptive Sync, DSC, FEC and LTTPR

Color depth 6 to 16bpc

Color formats: RGB, YCbCr 444, 422, 420, Raw

Capture memory 16GB
Pickups from our learning base