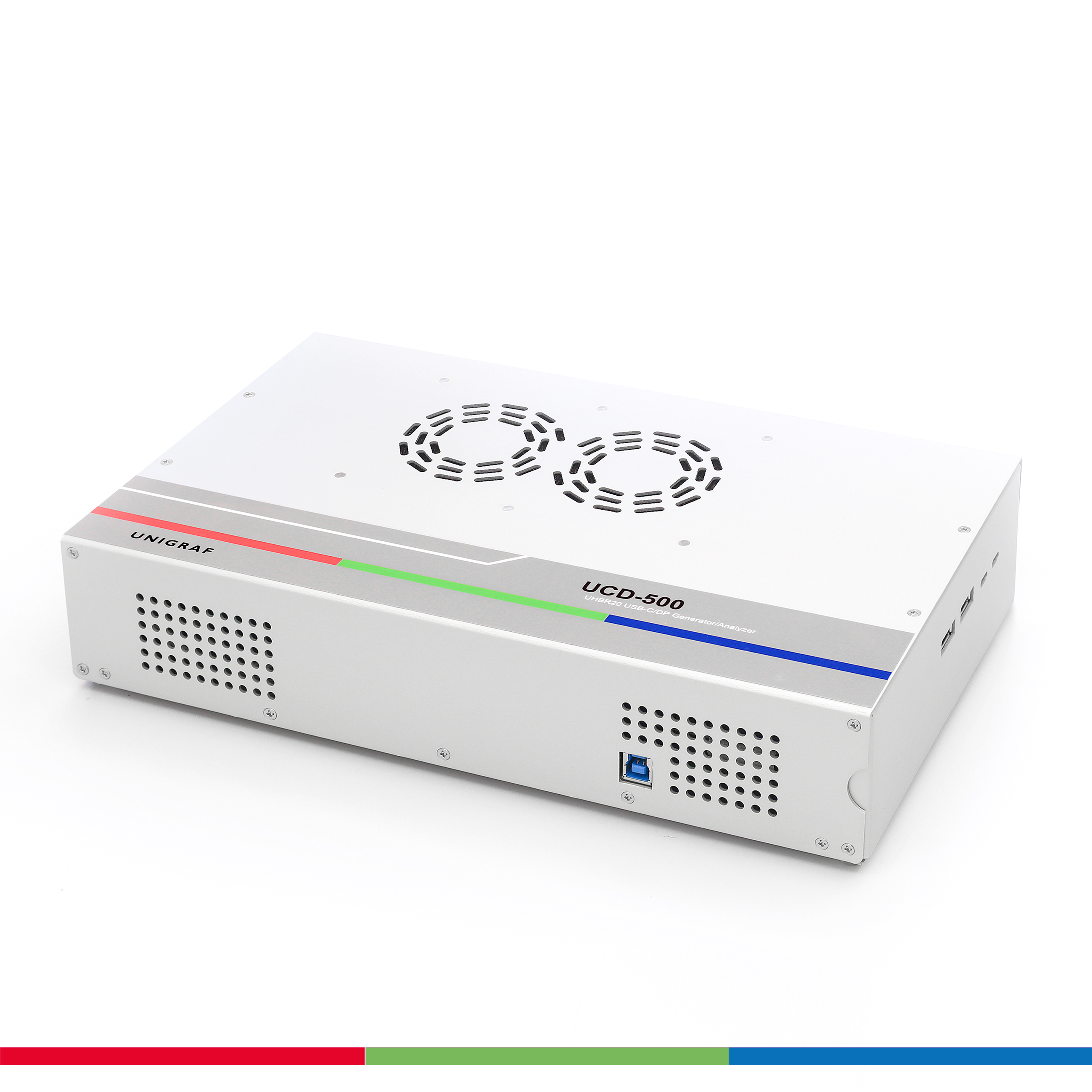 Description
UCD-500 is a DisplayPort™ 2.1 Video Generator and Analyzer unit for testing DisplayPort Sinks and Sources up to 8K@60Hz and 16K@60 Hz (with DSC) video modes with UHBR 20 Max Bit Rate Capability. Due to DP 2.0 implementation, 10 Gb rate max capability is available for DP connectors. 20 Gb rate max capability is supported for USB-C connectors. UCD-500 offers support for Adaptive Sync, DSC, FEC, and LTTPR.
DP80 (20 Gb rate max) capability on DP connectors will require HW upgrade to UCD-500 Gen2. Please contact Unigraf for more details.
DP 2.1 Compliance Test Tool
UCD-500 is a Compliance Test Tool for validating DP 2.1 Link Layer on DP Sinks and Sources. DisplayID/EDID and Adaptive Sync compliance tests are also supported. UCD-500 supports HDCP 2.2/2.3 CTS on DP Transmitters, Receivers and Repeaters.
For R&D and Test Automation
UCD-500 supports both hands-on debugging and running extended automated test sequences. UCD Console GUI is a preview and test application for desktop use. Each interface function has a well-structured dialog for superior at-a-glance viewability.
Unigraf TSI is a test software API that provides the system integrator a fast and reliable way for ensuring the functionality of the tested equipment.
UCD-500 Highlight Features
16K Video Generator & Analyzer

8K@60Hz without compression

16K@60Hz with DSC

DP 2.1 Link Layer CTS

HDCP 2.3 CTS for receivers, transmitters and repeaters

Support for Adaptive Sync, DSC, FEC and LTTPR

Color depth 6 to 16bpc

Color formats: RGB, YCbCr 444, 422, 420, Raw

Capture memory 16GB
Pickups from our learning base