DisplayPort is a commonly used interface in e.g. graphics cards, monitors, and laptops. It is also widely used in USB-C devices to transfer video and audio via DisplayPort Alternate Mode. DisplayPort standard is managed by the Video Electronics Standard Association (VESA).

DisplayPort 1.0 standard was first released in 2006. In 2019 VESA officially released the latest DisplayPort 2.0 version increasing the total bandwidth to 77.37 Gbit/s enabling resolutions up to 16K@60Hz with DisplayPort Stream Compression (DSC).
Source: VESA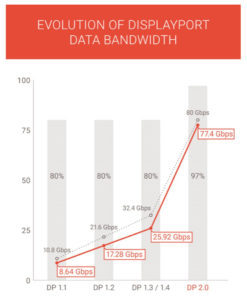 E-learning center: All you need to know about DisplayPort
E-learning center: Introducing DisplayPort 2.0
DisplayPort Stream Compression
VESA, the Video Electronics Standards Association, published a new Standard in 2014 that uses visually lossless image compression to increase the amount of data carried by a display interface data rate, saving power. For example, DisplayPort 1.4a supports 8K video at 60Hz and 24-bit color using a low 2:1 compression ratio or 30-bit color using a low 2.5:1 compression ratio, which will provide visually lossless image quality (indistinguishable from the original image). (Source: VESA)
E-learning center: DSC
What to Test in DisplayPort Interface?
Proper testing of DisplayPort interfaces requires testing of multiple DisplayPort specific features. Besides video and audio, testing of e.g. HDCP, DPCD, EDID and analyzing of AUX Channel traffic are crucial in ensuring the functionality of DisplayPort receivers, transmitters and repeaters. For a detailed explanation of testing of DisplayPort interface, click the link below.
E-learning center: What To Test in DisplayPort interface
DisplayPort Compliance Testing
As there are hundreds of manufacturers making DisplayPort devices, compliance testing according to VESA and DCP standards is the only way to ensure interoperability between different DisplayPort devices available on the market. Also, only by using certified compliance test tools you can obtain the DisplayPort certification.
Link Layer Compliance Tests
DisplayPort version 1.4 was first published in 2016, and it was updated to 1.4a in 2018. Unigraf continued a pioneering approach to DisplayPort Link Layer CTS Test Tools by introducing UCD-400, a HBR3 capable 8K video analyzer and generator. The selection of tests available for UCD-400 provides all tests needed for VESA Certified DP 1.4a Link Layer CTS including DSC testing for DisplayPort Sink and Source devices.
Please refer to the DisplayPort Compliance Test Tool Options for UCD-400 for detailed information about the DP 1.4a Link Layer CTS tests for DisplayPort Sink and Source devices.
More information: Compliance Testing
CTS Test Set Controlled via PC GUI
UCD-Console is a common GUI for all UCD-300/400 series products. For DP 1.4a Link Layer CTS testing UCD Console features ready-made test sets that you can easily select, run and monitor. Watch the video below to see how easily you can perform DP 1.4a Link Layer CTS tests on DisplayPort Sink and Source device.
HDCP 2.3 Compliance Tests
In 2018 VESA announced that it now requires HDCP testing as part of the DP testing requirement for certification. If a DisplayPort transmitter or receiver supports HDCP (as reported in the product CDF) it shall be tested as part of the certification requirements for obtaining the DP Logo. (Source: VESA)
Unigraf offers a range of DCP approved HBR2 and HBR3 capable HDCP 2.3 CTS Test Tools.
E-learning center: HDCP 2.3 Compliance Testing
DisplayPort Products To Test